Live videos are real-time video posts on Facebook. Live videos from public figures you follow and your friends will appear in your News Feed. When you're watching a live video or a video that was live, you can tap or click Subscribe to get notified the next time that a Facebook account starts a live broadcast.
Broadcast on Facebook Live: Live Stream Video in Facebook
Live video streaming facebook application
For iPhone/ iPad  (iPhone 4, 4s, 5, 5s, 5c, iPhone 6, 6 Plus)
When you're done broadcasting, Facebook gives a little detail on who was watching and lets you save to the camera roll (left). You can see what the video looks like in your timeline after broadcast (center) and at right is the playback window.
Setting up a live broadcast on Facebook for Android and iOS is fairly easy, just follow our how to (click images to enlarge them):
Step 1)  Go to Status Bar:
Head to the Facebook news feed and tap 'Status' to write a new Facebook status.
Step 2) Set up a live video broadcast 
A new button should appear on the bottom right-hand side of the status composition window depicting a silhouetted person with waves radiating from its head – tap that to set up a live video broadcast.
Step 3: Give Facebook access to your camera and microphone when prompted.
You'll stop receiving these prompts after the first time you use it.
Step 4: Press the blue "Continue" button on the introductory page.
Don't worry — pressing "Continue" won't start the recording. The next few steps will be preparing your live video before you go live.
Step 5) Now Select From Privacy options
Select your privacy options (You don't want any Tom, Dick or Harry looking at your broadcast, right?) and give a brief description of your live broadcast to entice your friends/fans to watch.
Step 6: Write a compelling description.
As with Periscope, you give your broadcast a description, which will show up on people's News Feeds like a status update above the video.
Step 7: Set up your camera view.
Before you click "Go Live," be sure your camera's pointing in the direction you want it to.
Step 8) Go Live
Once you're happy, tap 'Go Live'. A three-second countdown will appear on the screen to prepare you, and your live broadcast will begin.
Step 9) Broadcast
Broadcast! Make it interesting, and keep an eye on the comments section to interact with friends/fans. Facebook says that mentioning commenters by name during the broadcast will be "thrilling" for them, although we're assuming this piece of advice is for celebrities and not an average joe.
Step 10) Broadcast finished
Once the broadcast is finished, tap 'Finish' in the bottom right-hand corner to end the stream.
Step 11) Upload it and Share it.
Your video broadcast will then be uploaded to your Facebook profile for others (that weren't online at the time) to watch. You'll receive a message telling you how long the broadcast was, along with an option to delete it. If you don't want it on your profile, simply tap 'delete' and it'll be removed.
Step 12: Save the video to your camera roll.
Once you finish your broadcast, Be sure to toggle the option to save the video to your camera roll so you have a copy of the original video.
For iPhone/ iPad Updated or Newest Facebook app version
1. Open up Your Facebook app on iPhone/iPad.
2.  Now tap on Live cam button on top Left Corner
3. Now select Your Privacy settings from Drop Down menu below your Profile photo and name as shown in the picture
4.  Now select public, private, only friends or only me privacy settings according to your sharing plans
5. Now you have to describe your live video broadcast and have to give it a name. You can also change your camera view (front or rear) by pressing the change sign, which is at the top right corner of your Apple iPhone/iPad screen
6. You can now go live and Broadcast your live event on facebook using your iPhone 6, 5s or any other model, just follow the instructions.
For Android
Tap "What's on your mind?" at the top of your News Feed in your Facebook app.
Tap the Live Video icon (person icon with a broadcast signal around the head).
Write a description for your video (optional).
Choose an audience for your video, Public, Friends etc.
Tap Go Live and start your live broadcast.
When you are done with your broadcast, tap Finish.
Note: the maximum time limit for a Facebook Live video is 30 minutes.
How do I make my Facebook app live?
Tap "What's on your mind?" at the top of your News Feed in your Facebook app. Tap the Live Video icon (person icon with a broadcast signal around the head). Choose an audience for your video, Public, Friends etc. Tap Go Live and start your live broadcast.
How do you do live video on Facebook?
Tap on Post and then tap on the Live Video button. Add a description for your broadcast and tap the Go Live button when you're ready. During your broadcast, you'll see how many viewers you have and can respond to comments live. You can also hide comments or switch the front and back cameras of your phone.
Facebook live broadcast tips and tricks:
Nobody wants to sit through a poor quality stream that is constantly cutting out, so it's best to be connected to a fast data or Wi-Fi network. We'd probably avoid using data unless necessary, though, as broadcasting live video may eat a large chunk of your data allowance.
Grow and engage your fan base.
Whether you have an established fan base or want to build up your audience, Live is a new way for you to connect authentically with your fans in the moment. When you start a Live video, it will appear in News Feed for your fans to comment, like and share with their friends. People who have recently interacted with your posts will also receive a notification when you start your broadcast.
Interact directly with fans and other public figures, in real time.
During your broadcast, you'll see the number of viewers and a real time stream of comments from people tuning in. You can respond to comments live during the broadcast, or choose to hide comments.
Keep your video for fans to view later.
After your broadcast has ended, your video will be published to your Page so that fans who missed it can watch at a later time. If you'd rather not keep the video, you can also remove it from your Page at any time.
Go live via a Facebook page. While many will assume that the only way to go live on Facebook is via their personal profiles, they're wrong. Facebook also allows users to go live via a Facebook page, enabling celebrities and publications to directly connect to their fans via a public channel.
Choose who can see your broadcast.
We're not talking about changing your broadcast privacy settings as we mention above. Instead, we're talking about the ability to broadcast a live video to a specific Facebook group, but only if the group administrator allows it. This provides a way for users with specific interests to watch/broadcast a live video without bothering the rest of their Facebook friends. The same goes for event pages too, giving those that clicked 'maybe' a glimpse of what they're missing in real time.
 Get your friends/fans to Follow you.
Whenever you go live, your viewers will be presented with a 'Follow' button under your stream.
Like most Facebook annoyances, the fix is pretty easy to apply if you know where they tucked the setting away. While logged into your Facebook account click on the menu arrow located in the upper right corner of the top navigation bar and select "Settings", as seen below.
How to Turn Off Facebook Live Notifications
Look for the "Notifications" entry on the left hand navigation column. Click it.
Within the "Notifications" menu, click on the "Edit" link next to "On Facebook" at the top of the list.
Scroll down in the rather lengthy notifications menu until you see "Live Videos" near the bottom. Click on the drop down box beside "Live Videos" and change the default "On" to "All Off".
The change is immediate and from this point forward you should no longer receive notifications that a live stream has started.
Live Streaming 'Instant Video' Feature in Messenger App
In yet another deeper push into video, Facebook today is rolling out a new update to its Messenger app [Direct Link] that adds a new live video button into every chat window. When used, Facebook users will begin live streaming in a small pop-up window with sound turned off by default, allowing them to keep texting with the person on the other end while sharing visual details of their location that might be easier through video rather than simple text.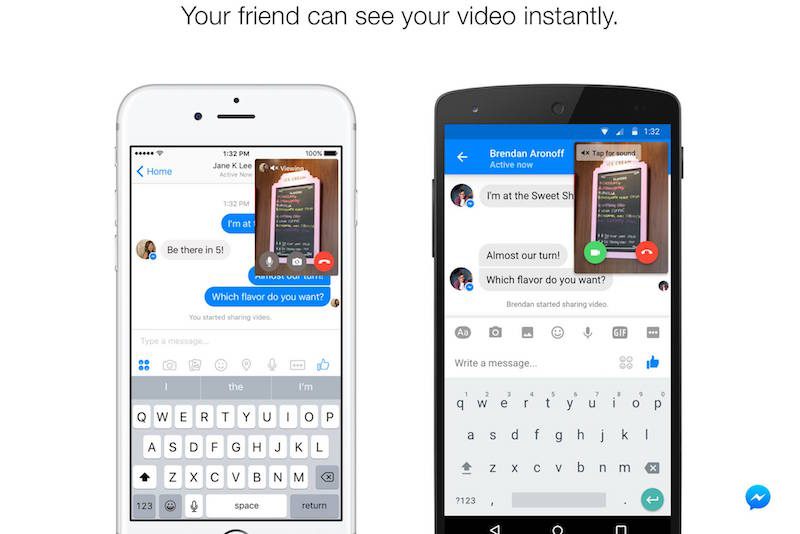 Facebook is calling the new feature "Instant Video,"
Instant Video is a reflection of the ubiquity of video — we simply expect to have that ability in real-time, all the time. With Instant Video, you can bring your conversations to life in the most authentic way — seamlessly and instantly. It's perfect for sharing quick moments with friends who aren't right by your side or making your conversations richer by seeing each other face-to-face when you are messaging.
To start an Instant Video conversation, there will be a new video icon in the top right corner of each Messenger conversation. This will bring up the live stream of real-time video, and the app supports both the front-facing and rear-facing cameras of a smartphone. On the other side of the conversation, a friend can continue watching the live stream and turn on audio, or respond with a stream of their own camera for you to see.
Facebook Live Video Broadcasting Problems and Errors:
Facebook live icon not showing on android, no facebook live button, facebook live android update, facebook live not showing up, facebook live icon not showing on my android, facebook live video icon not showing on android, facebook live icon missing, why can't i go live on facebook
Can't see facebook live icon on my Android… Seems it isn't available for every
If you are facing any of the above problem or error then:
Remove the Facebook app and then downloaded it again if Go Live Icon not appearing on Facebook App for iPhone and Android
Live videos let you bring your friends and family right next to you to experience what's happening together. This feature is currently available to people using iPhone and Android devices in select locations. If you're interested in sharing your own Live videos, please let us know: http://on.fb.me/1R1bBKH
One of the user complaints:
Facebook live video icon NOT showing on iPhone 6S iOS9.3.1 (Facebook App Version 53.0 Updated on April 14, 2016) despite Mark Zuckerberg and Facebook's official announcement that "FACEBOOK LIVE VIDEO" is available to EVERYONE.
FACEBOOK LIVE VIDEO IS NOT AVAILABLE FOR MANY MANY MANY MANY FACEBOOK PROFILE USERS. WHYYYY? I AM IN DUBAI, UAE AND THIS FEATURE IS NOT AVAILABLE TO ME AND NO ONE IS THERE TO BLOODY ANSWER ME, THIS IS RIDICULOUS ABSOLUTELY RUBBISH…
If you're experiencing any issues with Live Video, please report it to us. Learn how in our Help Center:
https://www.facebook.com/help/462017383994422/?ref=u2u